Long a power in global textile and garment manufacturing, Vietnam is taking on a new role: a fast-growing consumer market
The editor-in-chief of Harper's Bazaar Vietnam sees the next 10 years as a 'pivotal period for the growth of luxury shopping across the country'
The retail scene in Vietnam is thriving and growing, with more and more overseas retailers racing to establish themselves as mainstays for the country's next generation. Photo: Shutterstock
Down a quiet alley in the heart of Ho Chi Minh City, the focus is on one thing: sneakers. Here, at G-Lab, pristine pairs of Adidas Originals and limited-run Nikes line the walls in front of an excited clientele of young streetwear aficionados.
"I see a lot of kids who come in and it seems like they know the story behind every single shoe in stock," said Quang Nhat Hoang, a staff member at G-Lab.
The store, which opened in 2014, verifies the authenticity of each pair of shoes it sells and serves as a hub for like-minded shoppers seeking authentic and sometimes-rare styles. It also hosts a 100,000-member Facebook group dedicated to discussing sneakers, clothing, and sharing knowledge and tricks of the trade.
While there's deep interest in Vietnam around
,
, and their surrounding culture, finding and buying the real thing hasn't always been a simple process.
"Now you can check things out in person instead of flying to Singapore or taking your chances online," laughed Hoang, recounting a not-so-distant past in which securing a coveted pair of shoes required knowing the right people or getting on a plane.
A unifying theme of increasing demand paired with new avenues of availability is not just present in Vietnam's sneaker market, but across the spectrum of foreign brands' presence in the country.
While boutiques tucked into hidden side-streets can be easy to miss at first glance, the halls of international retail in city centres are not. A walk down Dong Khoi Street, stretching through Ho Chi Minh City's District 1, illustrates the extent to which Western brands strive to make a mark in both physical presence and name recognition.
The storied avenue is still home to French colonial buildings, time-tested hotels, and landmarks like the City Opera House, yet its blocks are also dotted with storefronts displaying the logos of
, Louis Vuitton
, and Saint Laurent. A short distance further is one of the country's largest malls, the Vincom Centre, which hosts multilevel spaces for
giants like Zara and H&M.
Long a power in global textile and garment manufacturing, Vietnam is taking on a new role: a fast-growing consumer market. Amid changing tastes and a rapidly expanding economy, most notably in the country's commercial centres of
and
, more retailers from abroad are racing to establish themselves as mainstays for the next generation.
How Vietnam's textile industry is trying to be more eco-friendly
20 Jul 2018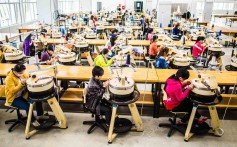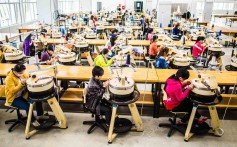 Trang Vo Thi Khanh, head of research at real estate firm Savills Vietnam, has observed an especially pronounced period of growth within the Vietnamese retail sector during the last three years. Whereas the market for foreign-branded items used to be primarily characterised by small networks of distributors and wholesalers, a number of factors have led both luxury and mass-market-oriented labels to open stores of their own.
"There's been a lot more confidence for brands deciding to move into Vietnam, and what really got it started was travel," she said. "They saw Vietnamese consumers buying up products in places like Singapore and Hong Kong and bringing them home."
To see this type of confidence in action, look no further than
entry into Vietnam. Its 3,000-square-metre (33,000-square-foot) store, also on Dong Khoi Street, arrived in December and takes up three floors of a department store.
A press release from the Japanese brand's parent company, Fast Retailing, said: "Uniqlo Dong Khoi is one of our largest Uniqlo stores in Southeast Asia, and we hope it will become a magnetic new focal point of Ho Chi Minh City's lively retail scene."
Tadashi Yanai, president of the Fast Retailing Group, added: "I think Vietnam has massive potential and will be one of the biggest consumer markets in the world."
The store was met with excitement on its launch day – the VnExpress newspaper reported fans lining up at 4am – and Uniqlo has already announced plans for a Hanoi store to open in the spring of 2020.
When considering broader economic trends in Vietnam, it's not hard to see why foreign retailers might feel optimistic. A market report from Savills shows that purchasing power of consumers is up 14 per cent year over year since 2014, while the country's real GDP (gross domestic product) is estimated to continue to grow at a rate of above 6 per cent. With Vietnam's population of more than 97 million and its young-skewing demographics – according to the World Bank, 70 per cent of the population was under 35 as of last year – the prospect for a future of growth in overall fashion spending comes into focus.
"It's really convenient to have a [Uniqlo] store here," said Hoa, a 20-year-old shopper sifting through T-shirts at Uniqlo Dong Khoi over a long holiday break. "I study in Australia so I'm used to shopping [at Uniqlo] there already. The prices here [in Vietnam] seem a little more expensive, but I think a lot of people are happy to have it."
Soon there will be new policies to make the prices of imported luxury goods in Vietnam much more competitive on a global scale
Still, where luxury fashion is concerned, there have been challenges in pricing and navigating different consumption norms between cities.
Venus Tran, editor-in-chief of Harper's Bazaar Vietnam and chairwoman of Sunflower Media, notes that luxury purchases in Hanoi have been somewhat more commonplace in the past, while Ho Chi Minh City's market has been more sensitive to the higher price tags found within the country.
"Even though luxury brands place high importance on advertising spending in Vietnam and have stores here, it's true that right now a lot of Vietnamese consumers will end up buying that
bag in Paris or New York. Prices here are still usually between 10 to 20 per cent higher," said Tran.
Nevertheless, luxury brands' continued efforts to stake out a space for buyers both young and old could pay off moving forward. Tran sees the next decade as a pivotal period for the growth of luxury shopping across the country, especially as new trade agreements are expected to change price points and reduce tariffs on goods entering Vietnam from the EU across the board.
"Soon there will be new policies to make the prices of imported luxury goods in Vietnam much more competitive on a global scale," she said. "When that happens, I think the luxury market will really take off. Much of the shopping that had previously been done in Europe, America, or Hong Kong could move here."
The boon of domestic tourism is also key. Savills' Vo forecasts the potential movement from an elite to a mass fashion market as relying on travel within Vietnam, especially as brand awareness keeps rising and the middle class expands.
"Even if international tourists currently don't make up much of the retail market, more important might be the huge numbers of overnight stays from Vietnamese travellers visiting first-tier cities each year."